Combat Thinning Hair and Scalp Issues with Proper Care
The scalp is an extension of the skin on your face. Treat it as equally important to keep it hydrated, nourished and healthy.
Combat Thinning Hair and Scalp Issues with Proper Care
The scalp is an extension of the skin on your face. Treat it as equally important to keep it hydrated, nourished and healthy.
Scalp health and scalp care products are finally getting their 15 minutes of beauty editor fame. Articles touting care routines, the best products for scalp health and ruminations about scalp detoxing abound.
So, is proper scalp care worth your time? Yes. Shouted emphatically from the rooftops - YES! Dermatologists, trichologists and hair stylists have long recognized the importance of maintaining a healthy scalp.
Revivogen's 3-step hair systems make it easy to treat and care for your scalp.
Still not convinced? Here are 4 reasons why scalp care matters for everyone.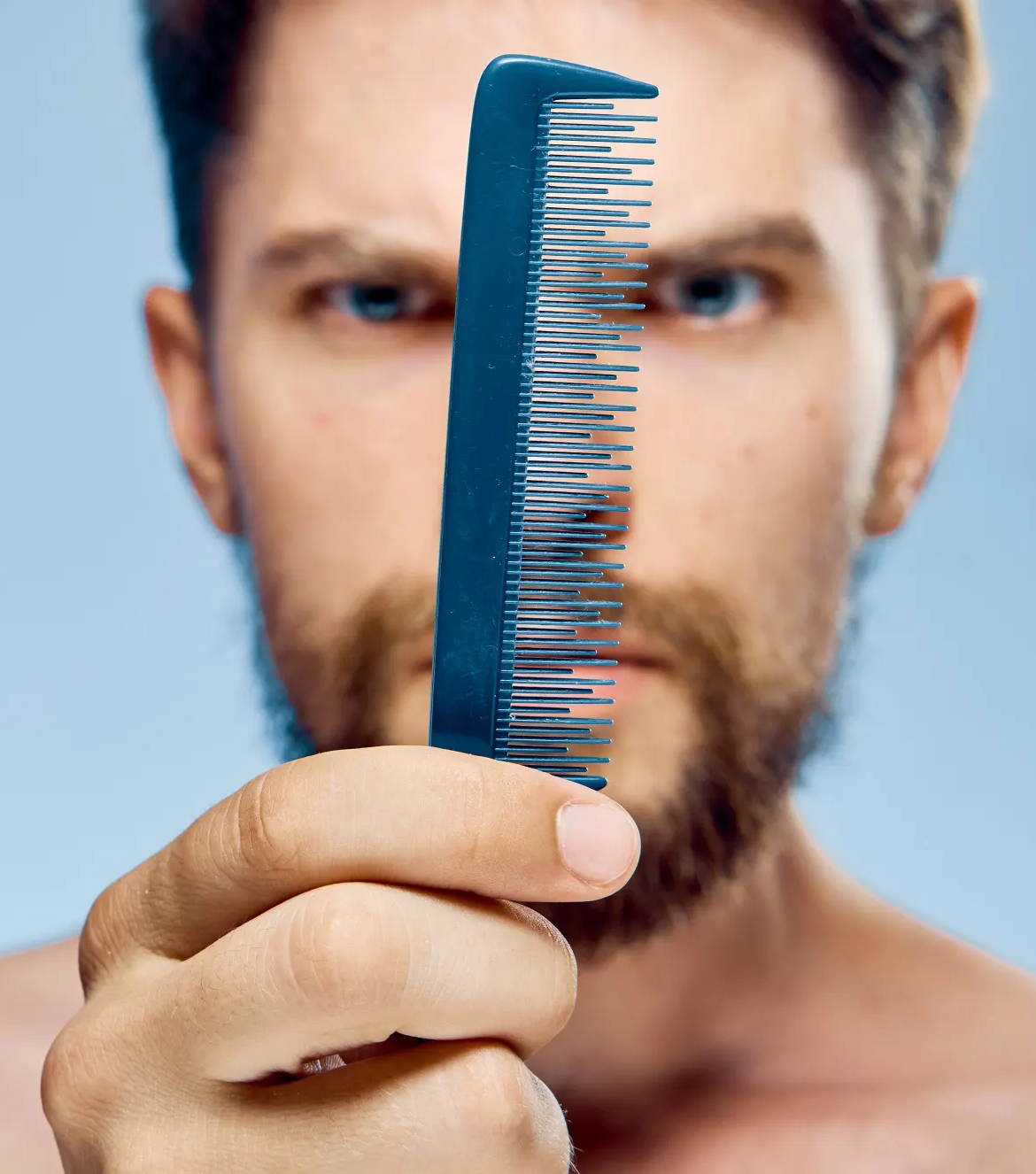 I was loosing hair constantly. But after starting to use Revivogen my hair loss calmed down. I'm not a 100% where I want to be yet but I believe Revivogen definitely helped. And with continued use I have a chance to get there.
Revivogen Customer, Anneliese T.
---
4 Reasons Why Proper Scalp Care Matters
1. Accelerated Scalp Aging
As we get older, our skin needs change and that includes the skin on your head. According to a study done by the L'Oréal Professional Academy, the scalp actually ages up to six times faster than facial skin. So if your anti-aging skincare routine doesn't include products to care for your scalp - it's time for an upgrade.
Signs of scalp aging include skin becoming thinner and losing its elasticity. Reduced circulation impacts hair follicles. Hair color changes, losing melanin and becoming gray. Hair thickness is also affected.
Revivogen is dermatologist-engineered to create the perfect scalp environment. Support scalp health with nourishing botanicals and slow the aging process.
2. Follicle Damage is Avoidable
Pattern hair loss impacts millions of men and women each year causing thinning, volume loss and bald patches. The hormone DHT attaches to hair follicles causing them to shrink; resulting in thinning strands, shorter growth cycles and increased shedding. Over time, follicles shed hair and go dormant, no longer producing new growth.
Blocking DHT from adhering to hair follicles combats this progression of thinning and hair loss. Revivogen Scalp Therapy contains six of nature's strongest DHT inhibitors, clinically proven to halt follicle miniaturization and prevent future hair loss. When applied daily, the Scalp Therapy hair serum can rejuvenate recently dormant hair follicles as well as protect active ones; increasing density and reversing signs of hair loss like a widening part or receding hairline.
3. Reduce Irritation & Itchiness
Proper scalp care minimizes issues like dryness, itching, flaking and inflammation. Having a dry or itchy scalp won't cause hair loss on its own. However, when your scalp is itchy or inflamed, you are more likely to scratch at it causing damage to the skin and hair follicles. Choosing products with natural oils and moisturizers and avoiding those with sulfates and parabens are best for your hair and scalp. Ingredients should help protect and nourish your scalp, balancing pH and strengthening the skin barrier.
If scalp issues persist, it is important to see a dermatologist. Severe dandruff or other underlying scalp conditions can cause scarring and discomfort - making hair loss more likely.
I love your product because my use of it has helped limit my hair loss and resulted in an appearance of thicker hair. Keep up the good work!
Revivogen Customer, Gerald H.
4. Healthy Hair Comes from a Healthy Scalp
Healthy hair starts below the surface of the skin in our hair follicles. Scalp health is influenced by a host of external factors as well as our general health and wellness. Choosing products and care routines that help keep your scalp's microbiome healthy will provide hair the best environment in which to thrive.
Taking care of your scalp is important at any age. It's never too early to start. By maintaining a healthy scalp and nourishing follicles with natural growth stimulating botanicals, you can enjoy thicker, fuller, healthier hair for years to come. However, it's never too late to start caring for your scalp either. The right routine for a mature scalp can mitigating itchiness, thinning and slowed growth.
Fight the signs of hair loss and aging at the root with Revivogen.
---
For Thicker, Fuller, Healthier Hair
What You Should Know: Natural DHT Blockers