5 Reasons Not to Ignore the 1st Signs of Hair Loss
Hair Loss Signs You Shouldn't Ignore
Don't let hair loss sneak up on you.
Hair Loss Signs You Shouldn't Ignore
Don't let hair loss sneak up on you.
The average person sheds about 100 strands of hair on a daily basis. So when it starts creeping up to 125 strands a day, whose to notice? But before you know it, your forehead is looking bigger (if you're a guy) or your part is looking wider (for the ladies). This is how hair loss sneaks up on you.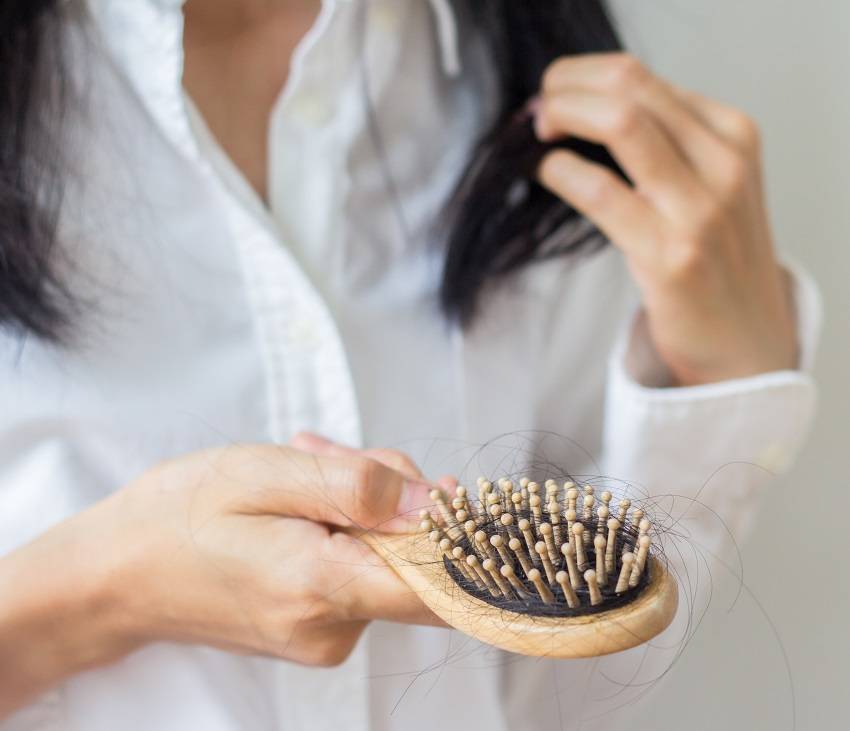 It's definitely made my hair thicker and I love it!
Mensur O.
---
Address Hair Loss Before It Becomes A Problem
Many people tend to think the thinning is temporary, or that they will deal with it when it gets worse. But if you are wanting to avoid going bald, we suggest you take steps right away to get the best results. And here's why:
It's not temporary. Many people attribute their hair loss to stress, a bad diet, or other temporary circumstances. But most of the time, it isn't temporary. And the actual cause is the genetic condition of Androgenic Alopecia (Male/Female Pattern Baldness). With the exception of postpartum shedding, you shouldn't ignore hair loss. It will only accelerate and the balding process will keep going. See a dermatologist or select a scientifically-backed product to address the issue.
Hair follicle zombies? Once a follicle has shed its hair and stopped growing, getting it back into the growth phase is less likely. It is basically in the dying process, which usually takes about five years. Success on regrowth seems to really vary person to person. Some Revivogen users have regrowth in areas that had stopped growing five years prior, but more users get best results in areas that went bald within two years. And others are not able to get regrowth at all. So basically, we can sometimes bring follicles out of a coma, but we can never raise them from the dead.
An ounce of prevention. The old adage really applies here. While regrowth is a bit more of a challenge, preventing shedding is much more achievable. Revivogen Scalp Therapy basically is a stop sign for the hair shedding phase. It keeps hair in resting or growth phase. So if you start Revivogen Scalp Therapy at the first hint of thinning, you can keep the hair you have.
Healthy hair habits. Starting a good routine will make it second nature for you to care for your hair and scalp. We recommend putting the Scalp Therapy bottle right next to your toothbrush so it becomes part of your nightly regimen. Also, using a shampoo that gently clears the scalp of sebum and conditioner that nourishes without weighing hair down will help you have a healthier coif overall.
Money, Time and Your Sanity. The truth is that there is no cure for hair loss. There are only treatments. Anything you do must be done indefinitely to keep your hair. That said, if you wait too long, you may end up needing more intense (and expensive!) treatments such as lasers, PRP, and transplants. And then you'll still need a leave-on topical treatment to maintain it. With Revivogen, you will use daily for about two years, then you can go into maintenance mode, which means you'll use it 3-4 times a week. That means, long-term, you can spend as little as $20 a month to keep your hair. No wigs or plugs in your future!
---
For Thicker, Fuller, Healthier Hair
---
Anti-Aging Hair Care: Prevent & Reverse Hair Loss
The most dreaded call for Revivogen Customer Care team members is when someone says, "I can't wait to try Revivogen! I've been going bald for 15 years now."
In those cases, the team member has to inform the customer that it is too late for them. So don't delay. The perfect time to start Revivogen is yesterday!
Perfectly balanced, dermatologist-formulated Revivogen will care for your hair; making it thicker, fuller, stronger and healthier. Whether you are 20 or 50 years old, Revivogen is designed to easily fit into your daily grooming routine and is safe for all hair types.
I like the products and my hair stop thinning, I will continue ordering both shampoo, conditioner and the scalp therapy spray.
Robert G.
Using Apple Cider Vinegar for Hair Loss