Tips for Styling Thinning Hair
With these simple steps, the wait for complete hair rejuvenation won't feel quite so long. Look & feel your best at every stage of regrowth with Revivogen!
With Revivogen MD Scalp Therapy, you finally have a solution that can slow down the shedding (rate of hair fall) and even grow back some of the hair that you thought was long gone. Except there's one hitch; It takes a while to see results. As in, three months for even a little improvement and 18 months for peak results. Unfortunately, the hair growth cycle is a slow one so there's just a lot of waiting and watching going on. This is true for all hair loss treatments. It's just biology.
So what can you do while you wait? Fortunately, after 20 years helping balding men (and women), we've learned that there are some ways to make the most of the hair you've got.
First of all, your hair won't look good if it isn't strong and healthy. Men so often go heavy on the shampoo and neglect to condition. The customer service team at Revivogen often hear from male customers that they've gone through their shampoo long before their bottle of conditioner. That should not be happening! Use a generous amount of the Thickening Conditioner every time you wash your hair. Our MD and PRO bio-cleansing shampoos are especially made for those with thin hair, so it won't weigh it down or make it greasy. Focus on the hair itself, not the scalp, and you'll see that the conditioner truly plumps up the follicles, making for a fuller-looking head of hair.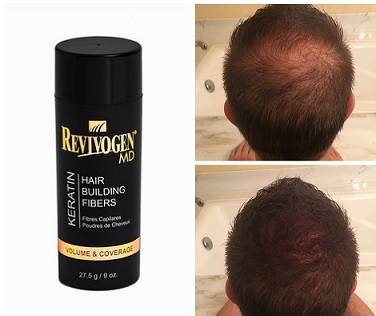 I use this (Keratin Hair Fibers) all the time to give my hair a fuller and thicker look. Works great and people can't tell I've used a little something something for my hair.
Gerry B.
---
For Thicker, Fuller, Healthier Hair
---
Care, Cut & Styling for Thinning Hair
The right haircut can make a big different in the feel and appearance of your hair as well. Go to an experienced hairstylist - you can even look up a salon that sells Revivogen products here. Take the time to consult before cutting. Allow your stylist to make suggestions for improving the look of your thinning or fine hair. Comb-overs are definitely not the way to go, but your stylist can help you choose styles that give the illusion of thicker hair.
I felt it was time for a change and ordered Revivogen PRO. In the time I've used the hair treatment, shampoo, and conditioner i've seen and felt a noticeable difference. I'm hoping with continuous use i will start to see regrowth.
Steven C.
Next we recommend a little bit of "fake it 'til you make it." With Revivogen MD Hair Building Fibers, a few shakes on your thinning areas will cover visible scalp and allow hair to look naturally fuller. You may be skeptical, especially if you remember the old spray-on hair infomercials of years gone by. Fortunately, the technology has improved. Revivogen fibers are made of keratin, which clings to strands of natural hair, blending and adhering for depth and coverage. Shake bottle gently and then use your hands to shift hair around until fibers fill in the areas you desire. A light spritz of hair spray will lock them in place for an even stronger, long lasting hold. They'll stay on until your next shampoo. Customers have raved about the instant confidence boost and at how realistic the fibers look.
Finally, keeping your scalp clean and healthy will boost the effectiveness of your Scalp Therapy treatment. Buildup of grease, products, dead skin cells and dirt can clog the pores of the scalp, making it impossible for follicles to grow, let alone allow a growth stimulating product like Scalp Therapy to penetrate. In addition to shampooing a few times a week at a minimum, the occasional exfoliation can make a huge difference. Revivogen PRO's Exfoliating Scalp Cleanser provides the scalp with a deep clean that boosts the hair growth process.
With these simple steps, the wait for hair rejuvenation won't feel so lengthy. Patience is a virtue, but a little instant gratification doesn't hurt.
Hairstyles that make you look younger

Thinking about quitting Finasteride (Propecia)?