Revivogen MD vs. Revivogen PRO
Revivogen MD vs. Revivogen PRO
Whether you are contemplating your first Revivogen purchase or have been a loyal customer for years, you may have wondered why there are two different color bottles showcased on the website.
Revivogen PRO was initially designed for hair salon professionals while Revivogen MD was available directly to consumers online and in dermatologist offices.
Today everyone can choose between PRO and MD, so here's what you should know.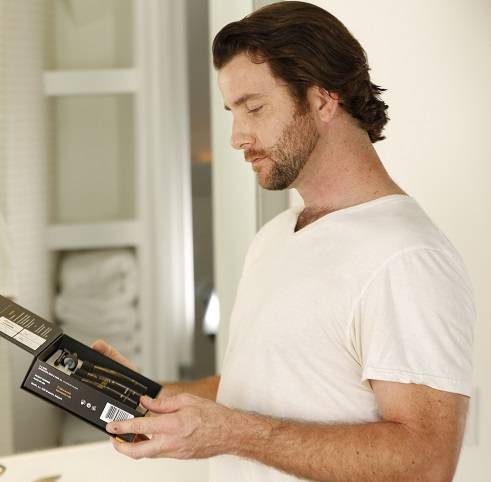 I have desperately tried EVERYTHING one can think of short of hair plugs for my hair which has been slowly thinning over the past decade and much, much more in the past 2 years. I have been using Revivogen for only about 6 weeks but have noticed decreased hair fall.
Revivogen Customer, Lauren M.
---
2 Ways Revivogen PRO Differs From Revivogen MD
Revivogen PRO offers a light botanical scent as opposed to Revivogen MD's slight minty scent. With the same active ingredients, choosing a formula comes down to personal preference regarding hair care fragrance.
Revivogen MD is available in larger quantities. MD Scalp Therapy is packaged as a 3-month supply. PRO Scalp Therapy starts with a 2-month supply. Revivogen PRO shampoo and conditioner also come in smaller 8 oz. bottles, making them more convenient and compact for travel.
But most importantly, Revivogen MD and Revivogen PRO have the same active ingredients
Whether you choose Revivogen PRO or Revivogen MD, you'll be getting the same clinically proven ingredients to address signs of hair loss. Revivogen is dermatologist engineered to work best as a 3-step system for hair rejuvenation. Scalp Therapy delivers 6 natural DHT-inhibitors and 2 growth stimulators to maximize follicle health. Bio-Cleansing Shampoo also removes follicle damaging DHT while nourishing and plumping each hair shaft. Pump up volume and shine with the Thickening Conditioner. Packed with antioxidants and soothing botanicals, Revivogen Conditioner improves the look and feel of fine and thinning hair without weighing strands down.
I love my Revivogen shampoo and conditioner every morning before I go to work, as it seems to renew my hair with strength and volume while giving my scalp a wake up.
Revivogen Customer, Cory S.
---
For Thicker, Fuller, Healthier Hair