Personal motivation and research lead to a new formula
Board certified dermatologist turned his own hair loss journey into a drug-free solution for men and women around the world
Personal motivation and research lead to a new formula
Board certified dermatologist turned his own hair loss journey into a drug-free solution for men and women around the world
They say that necessity is the mother of invention and in the case of Revivogen, necessity played a big role . . . along with a lot of science and a touch of vanity.
The dermatologist behind Revivogen had a very personal motivation for creating it. Just a few years into his medical education in the mid 1990s when he noticed something shocking in the mirror: He was losing his hair. He wasn't happy to be going bald so young, so he hit the books.
He looked at all of the research, which led him to the conclusion that hair loss was most often caused by genetics, and triggered by hormones. Knowing that nothing could be done about the genetic component, he dug into the hormonal aspect. He read every study about anti-androgen ingredients, then worked to develop a formula that combined the best of them, along with a carrier system that made it effective.
In just a few years, he was ready to bring his formula to the masses. Revivogen MD Scalp Therapy and Revivogen MD Bio-Cleansing Shampoo started selling in October of 1999. Though skepticism was rampant, given the myriad of "cures" out there for hair loss, many users were surprised by the results.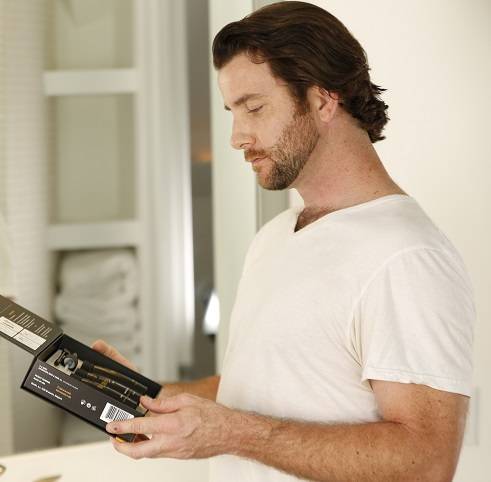 I was pretty skeptical at first. It had been the big talk on online forums about hair loss. Everyone was debating it and I decided to try. I've used it ever since and I credit my decent hairline to Revivogen. My two brothers are nearly bald now and they don't know my secrets.
Benjamin, Revivogen Customer since 2002
---
For Thicker, Fuller, Healthier Hair
---
Dermatologist Formulated, Doctor Recommended
Dermatologists, plastic surgeons and other medical doctors started recommending it to their patients looking for a more natural option instead of the commonly prescribed Rogaine and Propecia, which can have side effects.
My doctor recommended to me because I wanted something more natural. I was distraught about my hair loss. Absolutely miserable. I was shocked that it worked; and no side effects!
Sonja, Revivogen Customer since 2005
Revivogen MD Thickening Conditioner was added to the system later on, by popular demand of the customers. Years later, Revivogen PRO was created to offer a smaller, salon-friendly size and style. The Revivogen PRO line also included additional styling and hair health products - the Scalp Exfoliating Cleanser, the Volumizing Hair Mask, and the Dry Shampoo.  
It's the only shampoo I use. It gives you an instant boost of thickness. There's nothing else like out there.
Keshav, Revivogen Customer since 2004
With over thousands of doctors endorsing Revivogen, and many more thousands of happy users of Revivogen, it is no wonder that the brand has withstood twenty years of a roller-coast economy, a plethora of competition and huge amounts of skepticism. Ultimately, it comes down to a product that works. There are many users who have been with Revivogen since the very first year of business, and they continue using it because they see results.
Revivogen Customer Testimonials

The Power of Fatty Acids as 5-Alpha Reductase inhibitors